Product Description
IgG/IgM Rapid Test Cassette (Whole Blood/Serum/Plasma) is an assay for the rapid, qualitative and differential detection of IgG and IgM antibodies to 2019 Novel in human wholeblood, serum or plasma.
The fast test cassette, part of the kit, can detect the virus in just 2-15 minutes.
The test kit can shorten the testing time, provide easier and faster operation and make rapid diagnosis of suspected patients and on-site screening of people in close contact.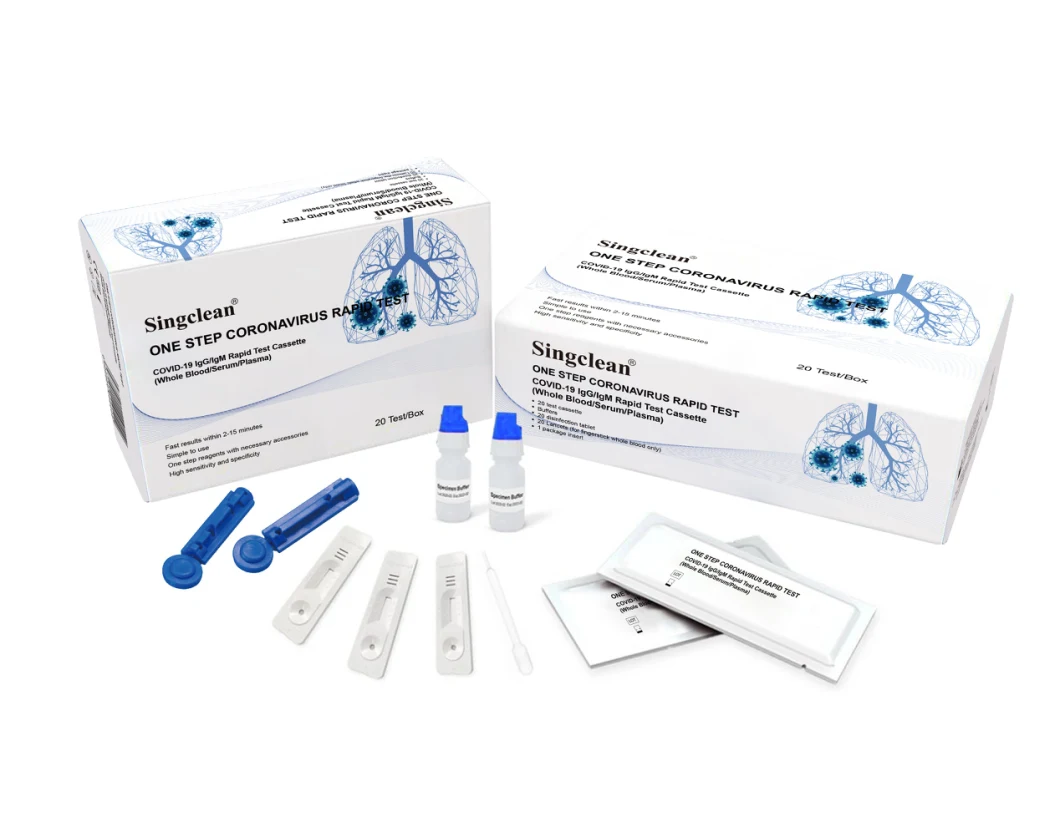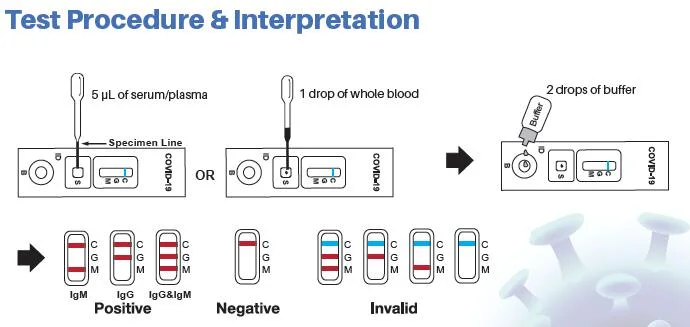 MATERIALS SUPPLIED
20 or 50 sealed pouches each containing a test cassette, a dropper and a desiccant
Buffers
1 package insert
1 disinfection tablet
1 Lancets (for fingerstick whole blood only)

MATERIAL REQUIRED BUT NOT PROVIDED
1. Centrifuge (for plasma only)
2. Timer
3. Heparinized capillary tubes and dispensing bulb (for fingerstick whole blood only)

STORAGE AND STABILITY
The kit can be stored at room temperature or refrigerated (2-30°C). The test device is stable through the expiration date printed on the sealed pouch. The test device must remain in the sealed pouch until use. DO NOT FREEZE. Do not use beyond the expiration date.

WARNINGS AND PRECAUTIONS
1. For professional In Vitro diagnostic use only. Do not use after expiration date.
2. This package insert must be read completely before performing the test. Failure to follow the insert gives inaccurate test results.
3. Do not use it if the tube/pouch is damaged or broken.
4. Test is for single use only. Do not re-use under any circumstances.
5. Handle all specimens as if they contain infectious agents. Observe established precautions against microbiological hazards throughout testing and follow the standard procedures for proper disposal of specimens.
6. Wear protective clothing such as laboratory coats, disposable gloves and eye protection when specimens are assayed.
7. Humidity and temperature can adversely affect results.
8. Do not perform the test in a room with strong air flow, ie. electric fan or strong air-conditioning.

Features & Benefits
• Fast results as soon as 2-15 minutes
• Facilitates patient treatment decisions quickly
• Simple, time-saving procedure
• Little specimens, only 5 μL of serum/plasma or 10 μL of whole blood specimens
• All necessary reagents provided & no equipment needed
• High sensitivity and specificity
Where Can Be Used
The test is ideally suited for hospitals, clinics and can also be used in places, like companies, schools, airports, and train stations.
Product Comparison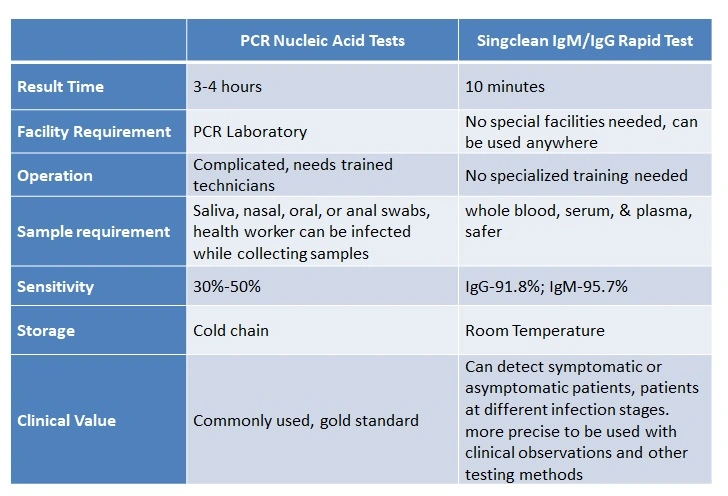 Available:
Singclean IgG Test kit(Colloidal Gold Method)
Singclean IgM Test kit(Colloidal Gold Method)
Singclean IgM-IgG Combined Test kit(Colloidal Gold Method)
IgM Positive: early during infection; IgM antibodies normally appear 7days after infection, 3 days after showing symptoms
IgG Positive: people are infected and were infected. IgG antibodies can persist for years to protect patients from getting infected again
IgM and IgG Negative: never get infected
There is no doubt that the IgM-IgG combined assay has better sensitivity compared with a single IgM or IgG test.
Test Method Limitations
•Negative results may be caused by low concentrations of the novel IgG/IgM antibody in the sample and therefore cannot completely rule out the possibility of infection.
•The results of this test are for clinical reference only and should not be the only basis for diagnosis. Results should be used in combination with clinical observations, like CT images and other testing methods.
•Test results can be affected by temperature and humidity.

Packing and Shipment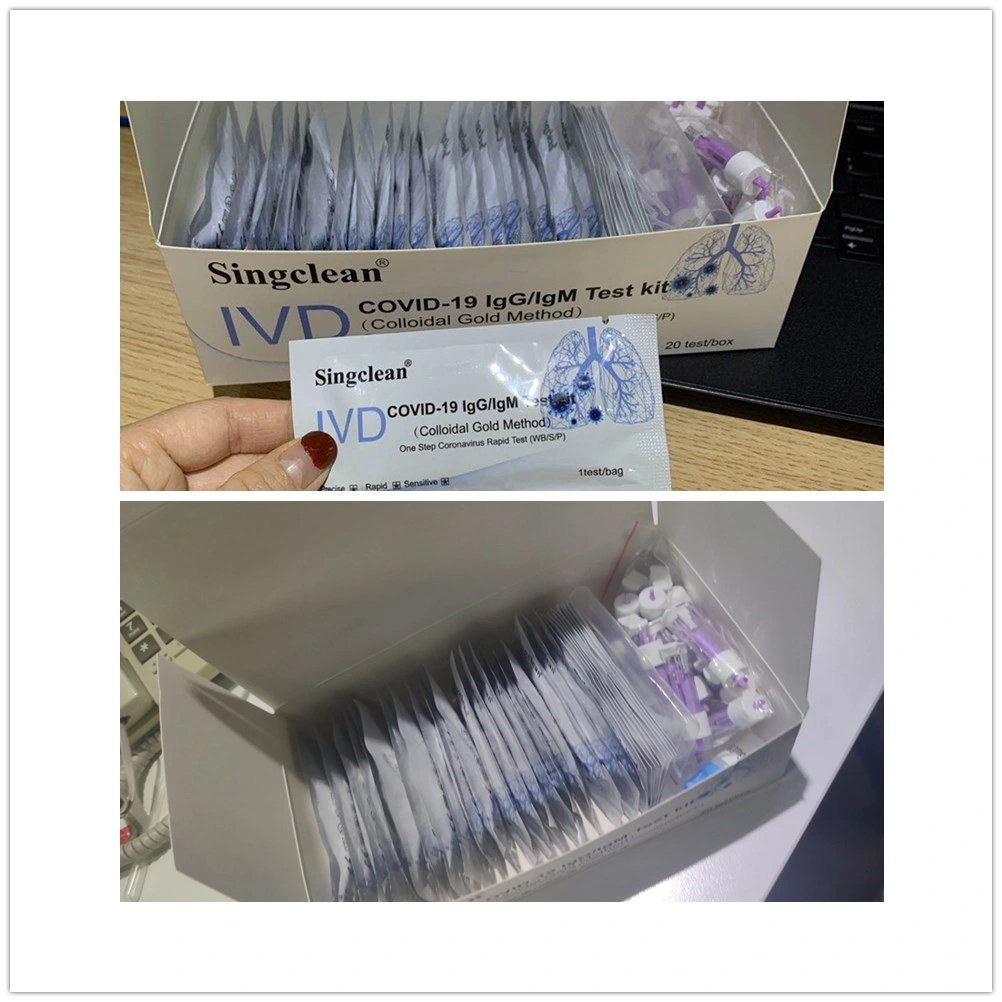 Company information

About our factory:
Singclean established in March 2003 with plant area of 13, 000 m²,which is a professional medical products manufacturer in China.
We offer high quality hyaluronic acid fillers for plastic surgery and medical hyaluronic acid and IVD products all over the world.

More than 400 staffs.