Disease 2019 IgG/IgM antibody Product Description
Singclean IgG/IgM Rapid Test Cassette (Whole Blood/Serum/Plasma) is an assay for the rapid, qualitative and differential detection of IgG/IgM antibodies to Disease 2019 in human wholeblood, serum or plasma.
The test kit can shorten the testing time, provide easier and faster operation and make rapid diagnosis of suspected patients and on-site screening of people in close contact.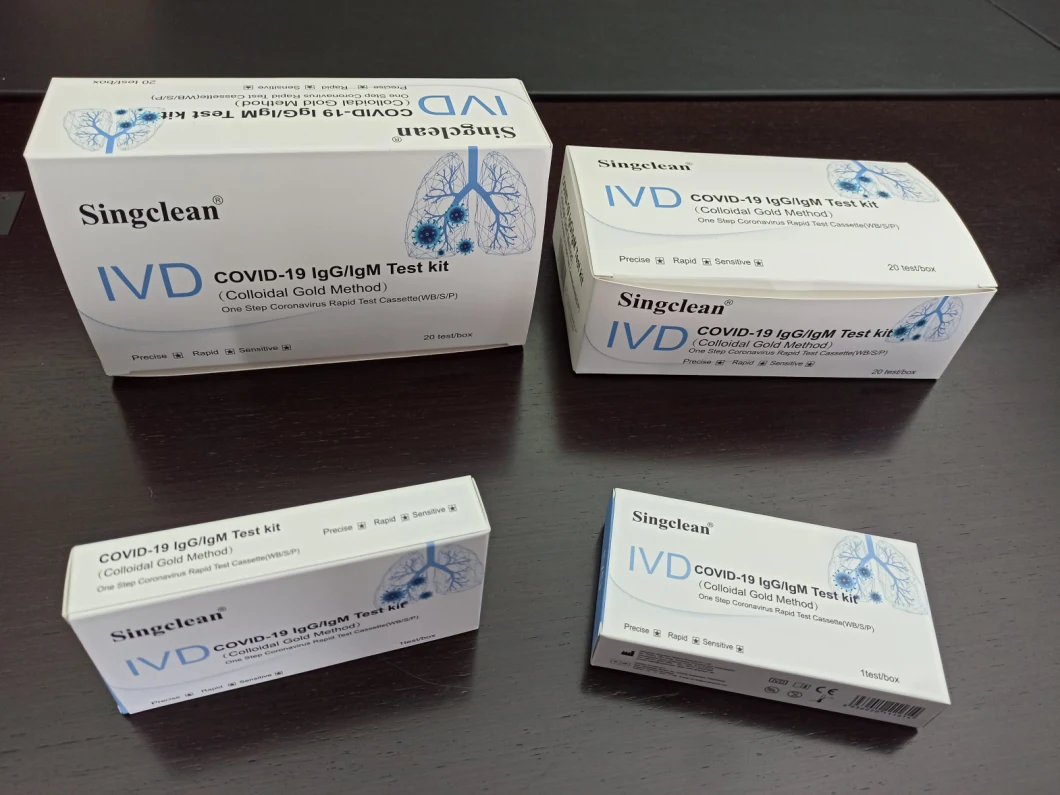 MATERIALS SUPPLIED
20 sealed pouches each containing a test cassette, a dropper and a desiccant
Buffers
1 package insert
1 disinfection tablet
1 Lancets (for fingerstick whole blood only)

Disease 2019 test Product Description

Singclean Disease 2019 Test Kit (Colloidal Gold Method) is a solid phase immunochromatographic assay for the rapid, qualitative detection of from disease 2019 in human nasal swab specimen. This test provides only
a preliminary test result. Therefore, any reactive specimen with the Disease 2019Test Kit (Colloidal Gold Method)
must be confirmed with alternative testing method(s) and clinical findings.

This rapid test kit is the second test kit developed by Singclean Medical for Disease 2019 testing on the basis of Colloidal Gold Method after Singclean Disease 2019 IgG/IgM Test Kit, an antibody test, was launched globally in March, 2020.

Product photos

1 box 1 buffer
One Step Disease 2019 Rapid Test Cassette (Nasopharyngeal Swab) 1 box(20 pieces/ box ) Composition:
20 Test Cassette
1 Extract Buffer 6 ml
20 Extraction Tube
20 Swab
1 Paper workbench
1 Instruction for use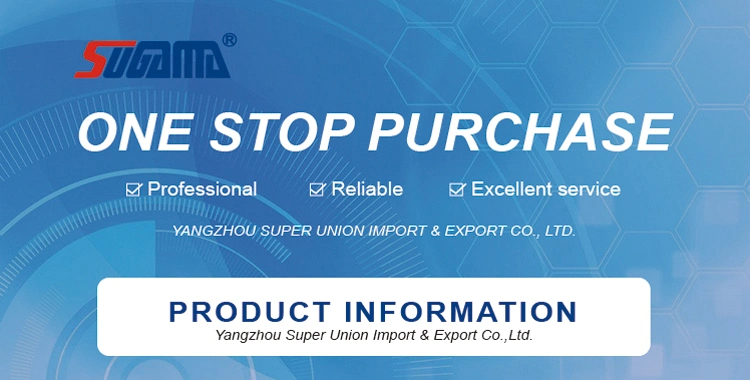 1 box 20 buffer
One Step Disease 2019 Rapid Test Cassette (Nasopharyngeal Swab) 1 box(20 pieces/ box ) Composition:
20 Test Cassette
20 Extract Buffer
20 Extraction Tube
20 Swab
1 Paper workbench
1 Instruction for use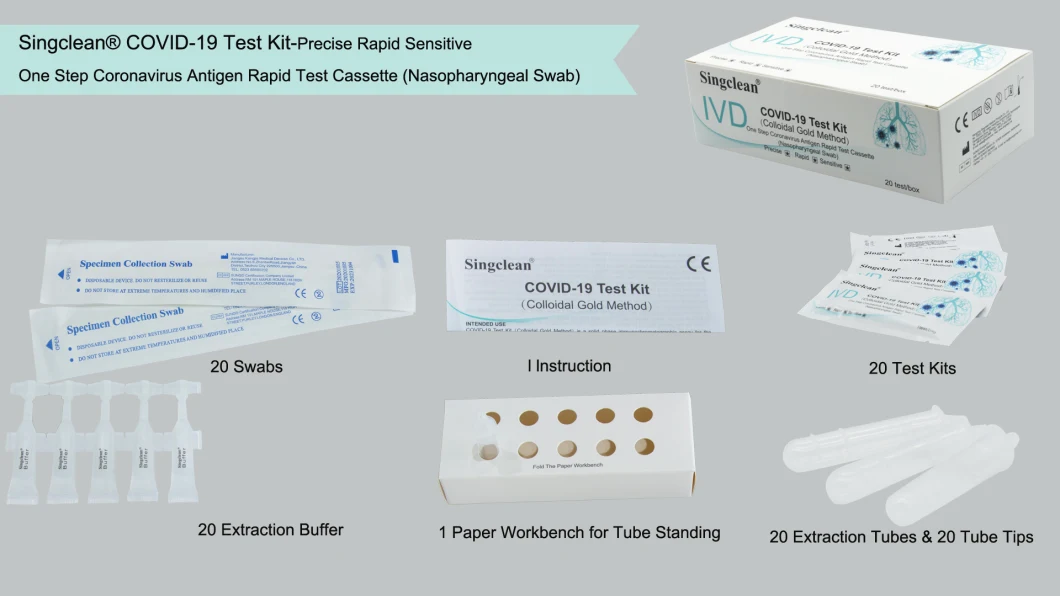 STORAGE AND STABILITY
The kit can be stored at room temperature or refrigerated (2-30°C). The test device is stable through the expiration date printed on the sealed pouch. The test device must remain in the sealed pouch until use. DO NOT FREEZE. Do not use beyond the expiration date.
WARNINGS AND PRECAUTIONS
1. Do not use after expiration date.
2. This package insert must be read completely before performing the test. Failure to follow the insert gives inaccurate test results.
3. Do not use it if the tube/pouch is damaged or broken.
4. Test is for single use only. Do not re-use under any circumstances.
5. Handle all specimens as if they contain infectious agents. Observe established precautions against microbiological hazards throughout testing and follow the standard procedures for proper disposal of specimens.
6. Wear protective clothing such as laboratory coats, disposable gloves and eye protection when specimens are assayed.
7. Humidity and temperature can adversely affect results.
8. Do not perform the test in a room with strong air flow, ie. electric fan or strong air-conditioning.

Features & Benefits
• Fast results within 10-15 minutes
• Facilitates patient treatment decisions quickly
• Simple, time-saving procedure
• Little specimens, only 5 μL of serum/plasma or 10 μL of whole blood specimens
• All necessary reagents provided & no equipment needed
• High sensitivity and specificity

Company Information
Hangzhou Singclean Medical Products Co., Ltd., established in 2003 with registered capital of RMB 80 million Yuan, is a national high and new technology enterprise. Singclean Medical manufacturing site covers the construction area of 17,000 m2, including producing tract 13,200 m2, class C cleanroom 2,300 m2, class B cleanroom 300 m2, class A cleanroom 60 m2.
Our main products include Cross-linked Sodium Hyaluronate GEL, Medical Sodium Hyaluronate Products, High-tech Hemostatic Products, and In-vitro Diagnostic Reagents Products.
Singclean has fully established and strictly operated the quality management system for In-vitro Diagnostic Reagents Products, to ensure the company has the capability to consistently provide customer with products/services which meet the requirements of customer and regulatory, and is committed to continual improvement of the system so as to improve customer satisfaction.
1: Factory direct price. Price is competitive with high quality.
2: Original manufacturer provide OEM & ODM services for you. OEM Service including private labeling, color box and pouch printing & customized assembly are available.
3: Smooth delivery near Shanghai and Ningbo Port.
4: Reasonable quantity Free samples available to be sent for your evaluation.
5. FOB, CIF, DDU services/prices for you to choose.